As a homeowner or business owner, there's a good chance that you rely on electricity to power nearly every aspect of your day. When a problem occurs with that electrical system, it not only disrupts your normal rhythms, but it could potentially be causing a serious safety threat for anyone inside of the building. That's why Arrow Electric ensures our electricians have the skills and training needed to complete the most demanding projects, with the licensing required to give you peace of mind.
As a trusted electrician in the OKC area, Arrow Electric strives to maintain the strict safety standards required by the National Electrical Code (NEC). We know that just one mistake could lead to expensive damages and dangerous conditions. Our top priority is the safety of our customers, and we are available 24/7 to help ensure their electrical problems are resolved quickly and accurately.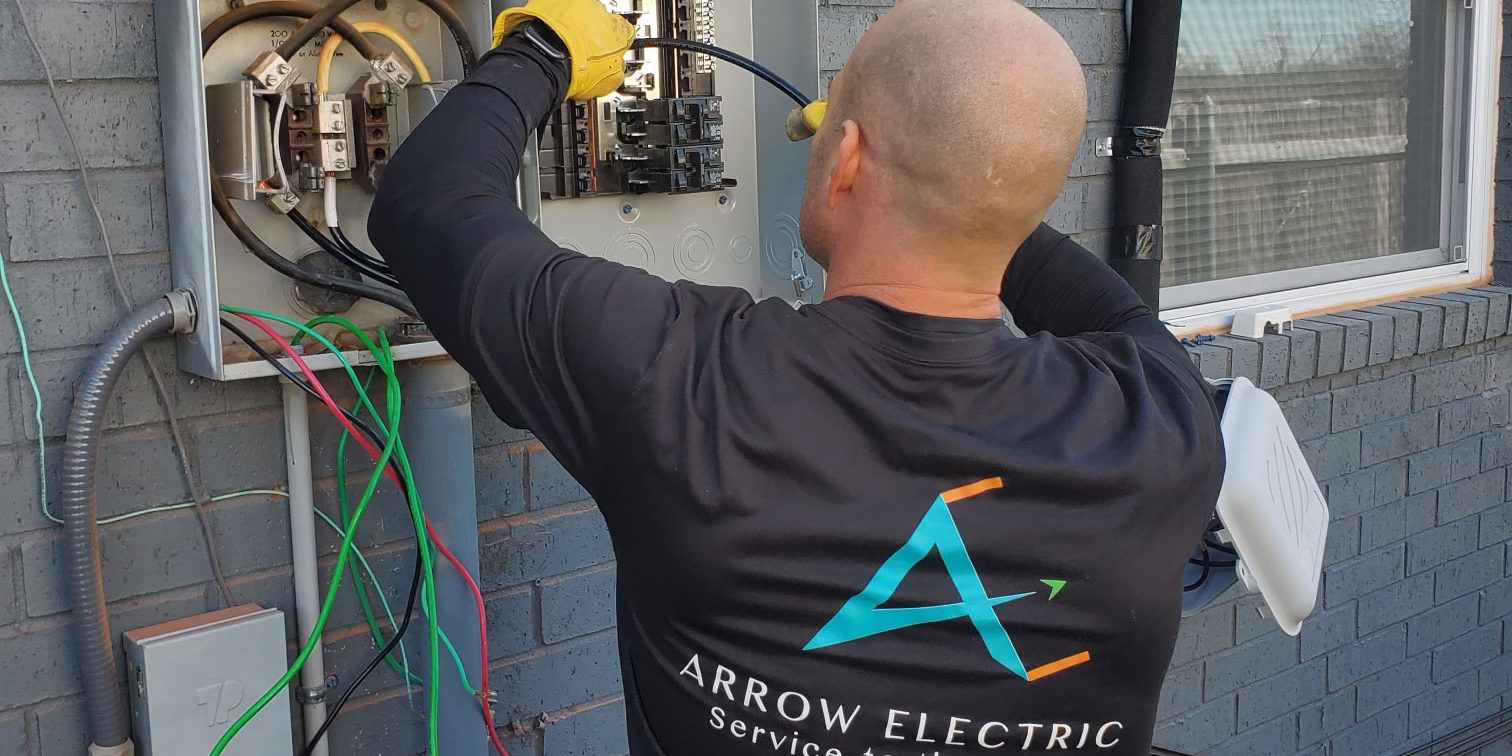 Residential Electrical Services
From a faulty GFCI to replacing outdated light fixtures with new LED technology, there are a lot of components within a home that our electricians work on regularly. While these may seem like small projects, no project is too small for the team at Arrow Electric when it comes to ensuring a home is safe for its inhabitants. Each completed project is guaranteed to be up to code to ensure your insurance remains valid.
Commercial Electrical Services
Any time an electrical issue occurs within a commercial building, it can lead to lost profits and unsafe work conditions for anyone inside. When these problems arise, you need the assistance of trusted electricians that are experienced with the complexity of commercial electrical systems. Whether you need an emergency electrician or want to be proactive and retrofit or redesign your existing electrical system, Arrow Electric can help.
Electrical Panel Repairs & Replacements
The electrical panel is the core of any business or home's electrical system. When the panel malfunctions or breaks, it is critical to ensure that it is repaired or replaced as soon as possible. Unfortunately, without the assistance of a professional electrician, it can be hard to tell what the problem is. Arrow Electric has the knowledge and skill required to diagnose electrical panel issues and repair or replace them.
Electrical Panel Upgrades
Many older homes and commercial buildings are still utilizing old electrical panels that cannot handle the energy requirements of their home. This will often lead to constantly tripping breakers, flickering lights, or appliances and other needed machines to not run on full power. If you are experiencing any of these issues, it is vital to consider an electrical panel upgrade before the problem new devices are plugged in, and the load is increased.
Generator Installation and Repairs
Oklahoma is no stranger to inclement weather that can cause multiple outages annually. Unfortunately, widespread outages can often last numerous days and lead to intense disruptions. Installing a generator at your home or business is often the easiest way to prepare for these scenarios and ensure that the AC or furnace continues to work when the grid temporarily goes down. Arrow Electric also provides generator warranties to our customers and helps troubleshoot any issues as they occur.